Rhode Island Charter Captains
Capt. Andy has been fishing since the early 50's with his father. His son, Capt. Mark is a 3rd generation Rhode Island fisherman. The charter boat Misty is the best charter boat in Rhode Island and has been for 50 years!
As you can imagine, Capt. Andy has an extensive amount of experience on the water. In the 50's he worked for Capt. Dick Lima and Capt. Bob Linton. He also owned his own 32 ft charter boat in Galilee during this time. In 1969, he and Bob Linton custom built the Misty.
Click on image to enlarge
Captain Andy in his younger years, winning the Atlantic Tuna Tournament (1966) with a 729lb Tuna.
Capt. Andy and Capt. Mark make their sole living from the charter boat business. Before committing yourself to any boat ask them these 3 questions.
How long have you been in the charter boat business?
Do you own the boat or do you merely operate it for someone else?
Do you make your sole livelihood from this boat?
More often than not you will find that another business or occupation supports their part time fishing habit. Many of these individuals lack the experience and background to give you the kind of quality fishing trip you want. In fact, many look at chartering as a golden opportunity to be able to own a boat at your expense. Fish with full time professionals; our expertise guarantees satisfaction on your next fishing trip. We invite you to test us.
The Misty always sails with two licensed captains, and sometimes has one or two crew members for your added safety and pleasure.
The Misty was built in 1969 by Captains' Bob Linton and Andy Ambrosia. It took 9 months to build and launch the Misty. Capt. Andy cut down most of the trees for the native oak that went into the hull. The Misty was custom built with comfort and safety in mind. She is equipped with the most modern electronics and safety equipment. She also has bunks, a stove, refrigerator, freezer, microwave, dining table, toilet, a large cockpit, and live wells to keep your fish fresh. The Misty is heated for Spring and Fall fishing. The Misty has a 350 horsepower diesel engine, which allows us to keep our fuel costs down so we can pass the savings on to our customers. Her cockpit is spacious and safe for families and small children.
The Misty is fully equipt with all the newest tools to help you catch fish!
Come and enjoy the day with us!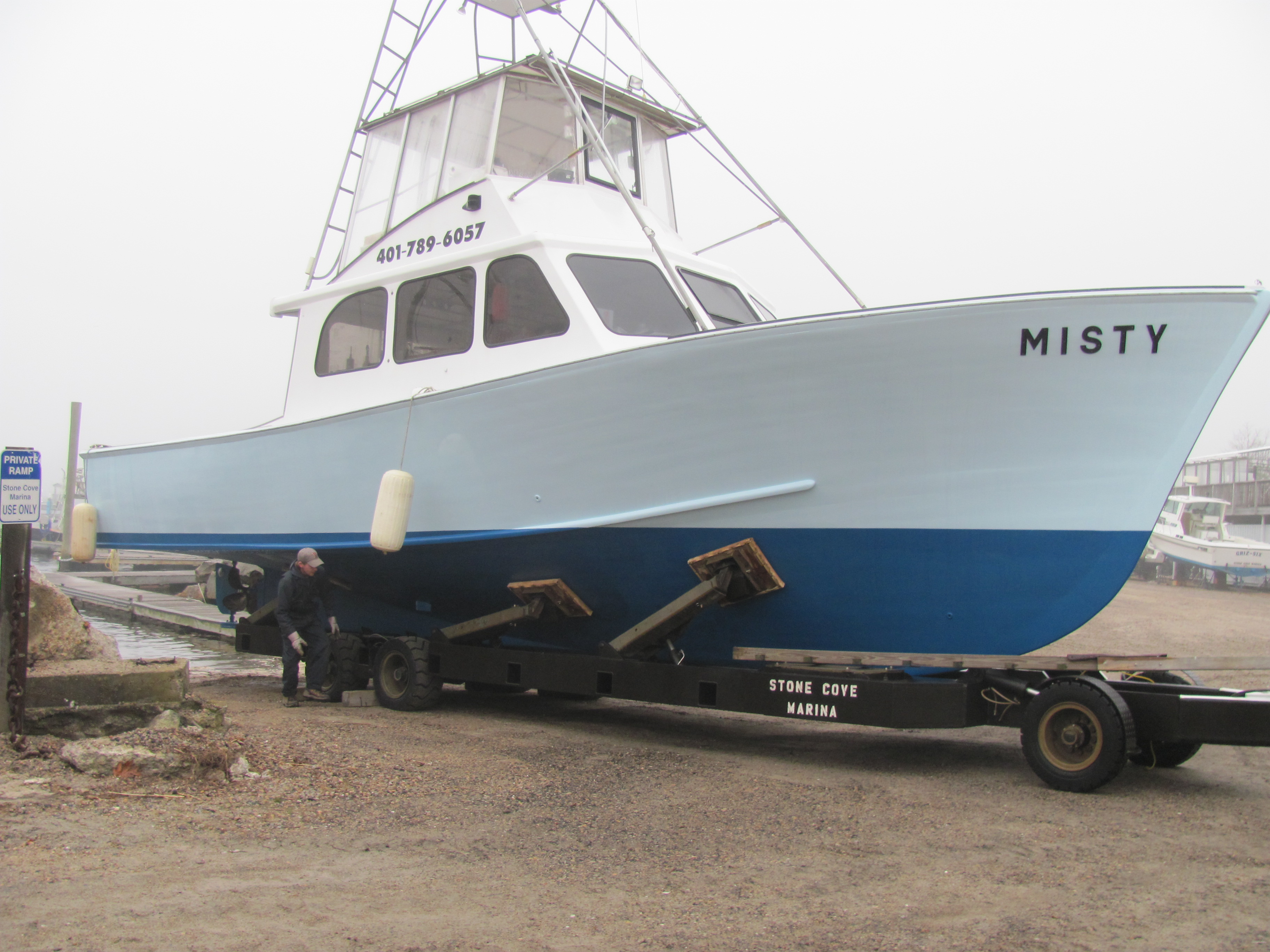 The Rhode Island charter boat Misty being launched
---